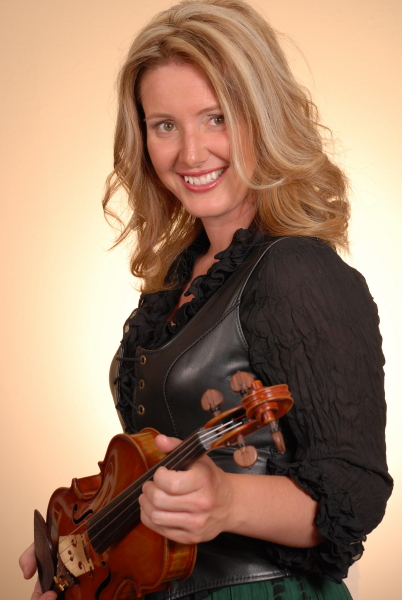 Photo by Irene Young
Contact Kathy
Learn to play the violin
Kathy Sierra
violin, viola & vocals
Kathy Sierra is a classically trained violinist, and vocalist. The California native with a weakness for gourmet coffee is also an accomplished composer, arranger, producer and performer. She begged to play the violin starting at age four, began her Suzuki Method music studies at age five on violin and piano and performed with the Honolulu Symphony at age seven. Upon moving to Sacramento California, she continued her Suzuki Violin studies with Jeannette Bjorak and was Concertmistress of her middle school orchestra at the Sacramento Waldorf School. In high school, she studied with violinist Marlene Silva of Placerville, CA, and became the youngest member of El Dorado County's Sierra Symphony. In 1990 she won the talent competition and a college scholarship from the Miss El Dorado County Scholarship Competition.

From 1991 to 1995, Kathy performed, acted, sang, and danced for her BA degree
in Drama with an emphasis on music from Principia College in Elsah, Illinois.
While there, she served as the Concertmistress and soloist for the College Music Ensemble, studying violin performance with Dr. Kent Perry of Southern Illinois University in Edwardsville. Upon graduation, Kathy was presented with the
College's Francis Van Der Meid Smith Music Award for musical excellence,
and the Frank Parker Theatre Award for greatest overall contribution to drama
in the college theatre.

Kathy's musical style took an exciting and eye-opening turn upon moving to Berkeley, CA. There she met violinist, producer, and composer Kaila Flexer,
who became a mentor to Kathy on other styles of violin playing, including Irish and Scottish fiddle, Bulgarian folk, Klezmer and Jazz. During this period,
Kathy performed with the Gold Country Chamber Orchestra in Sacramento, CA, and the 1999 inaugural performance of the Cotati Philharmonic in Cotati, CA.

Since 2001, Kathy has been touring internationally with the Celtic Folk trio, Golden Bough, performing on the concert stage and at festivals.
She has also recorded 5 CD with Golden Bough, as well as performing at hundreds of elementary schools throughout the continental United States.
She is also an alumnus of San Francisco's swing jazz quintet, Vive Le Jazz.

Kathy is a registered Suzuki Violin Method teacher, offering Suzuki and Celtic-style instruction in her studio, as well as on tour.